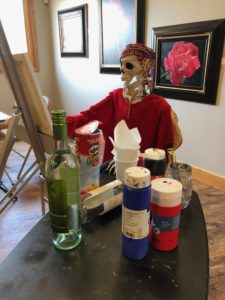 Welcome to my world!!
I'm Erma, your fabulous hostess with the mostess, here to guide you when you need it, offer moral support, and when it's called for, offer wine and commiseration.
I will be here answering any questions you have regarding painting, color mixing, where to find special supplies, how to annoy the instructors, and give you tips to make your paintings better.
I'm named after the famous Erma Bombeck. That's some writing to live up to! I'm up to the challenge though!
July 2019
Cleaning Your Brushes.
Most of you slack on the cleaning sometimes. If I could give you an eye roll I would but my eyes are long gone and no one seems to be able to find me a donor! Anyone know where I can get some baby blues?
I digress.
I bet after this summer of sitting around in jars or laying in a box while you were traveling, your brushes have hardened up a bit. A good soaking in Turpenoid Natural for oil brushes or plain old alcohol (unless you prefer a fancy designer alcohol) for acrylic brushes will do the job. Soak them at least overnight and then give them a good scrubbing with mild soap and water. If this doesn't work and the brushes are still brittle, it might be time for new brushes. They don't have to be expensive but nothing gets the creative juices flowing like a new, fresh brush!
Adios! I'll be back in a month. If you have questions, email them to victoria@ciolim.com.