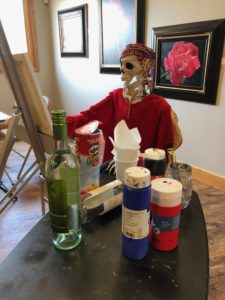 Welcome to my world!!
I'm Erma, your fabulous hostess with the mostess, here to guide you when you need it, offer moral support, and when it's called for, offer wine and commiseration.
I will be here answering any questions you have regarding painting, color mixing, where to find special supplies, how to annoy the instructors, and give you tips to make your paintings better.
I'm named after the famous Erma Bombeck. That's some writing to live up to! I'm up to the challenge though!
October 2020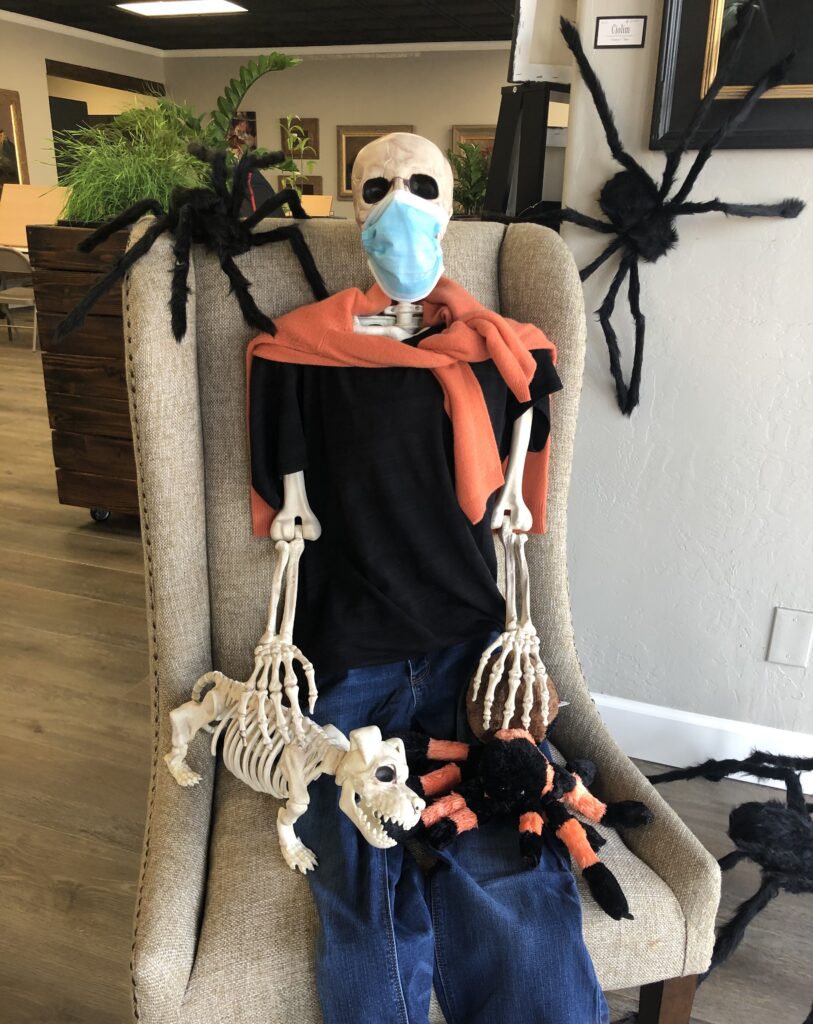 Hi everyone! I thought with the lockdown I'd have more time to write but, alas, I spent my time binge watching Netflix and snacking like everyone else. The COVID 19 are real my friends! I'm going to be dieting all of 2021 to get rid of it.
Now that everyone is attempting to get out and about a little more it's time to get back to painting. Classes at the gallery are beginning again, on a limited basis and with all the necessary protocols in place. It's great for the students! With limited class sizes they're getting a lot more special attention.
If you've been considering trying a new medium it's a great time to do it, oil, watercolor, acrylic, pastel or drawing. What gets you excited? If you find crafts interesting stop in and I will get you going with all supplies included. Find a class that you've thought about taking but were hesitant about. If all of your supplies are furnished you can try it without having to purchase new supplies. Find the freedom in learning.
Summer 2020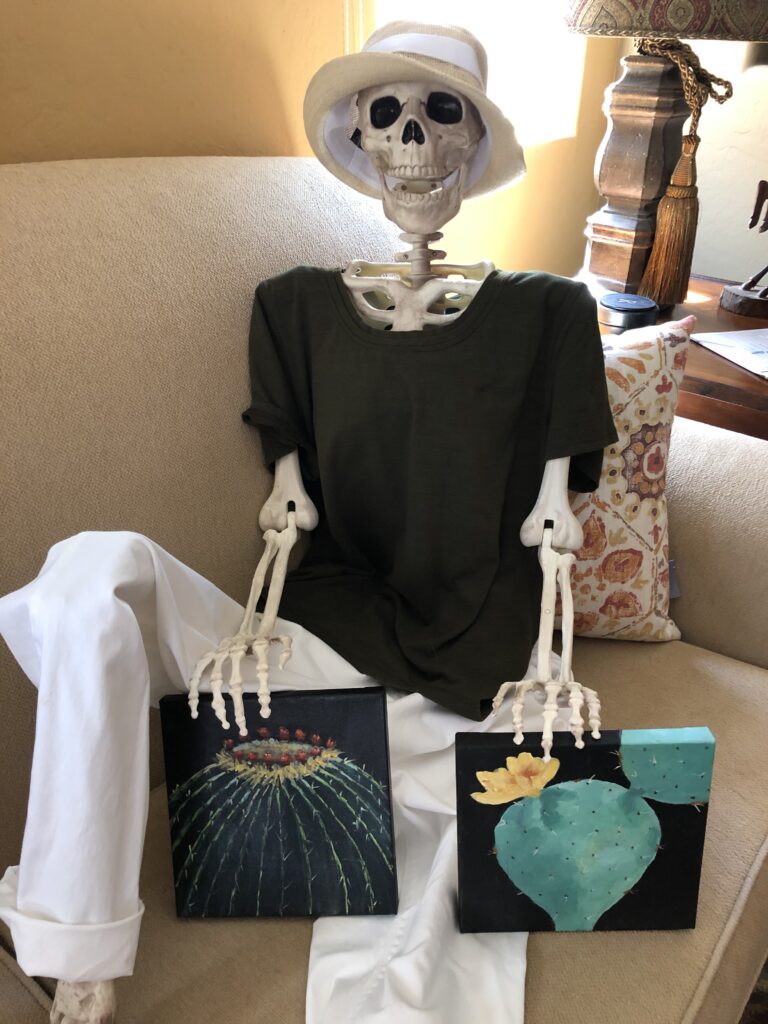 Well, hello again! Anyone else exhausted after the events of the past few months? I'm still limiting how much I go out because I'm pretty sure the virus would be the death of me, and I have been trying to find ways to pass the time. I'm having fun painting small canvases. 8×8's to be exact. They're a perfect size and can double as gifts specially made by you! I'm signing mine Q20 after the quarantine.
Look at some of the paintings you have done over the years and choose bits and pieces of them that you love. Transfer those images to an 8×8 canvas and voila! You have a wonderful little painting that reflects your color and personality. Small easels are available in any of the hobby stores. Stay healthy!!
March 2020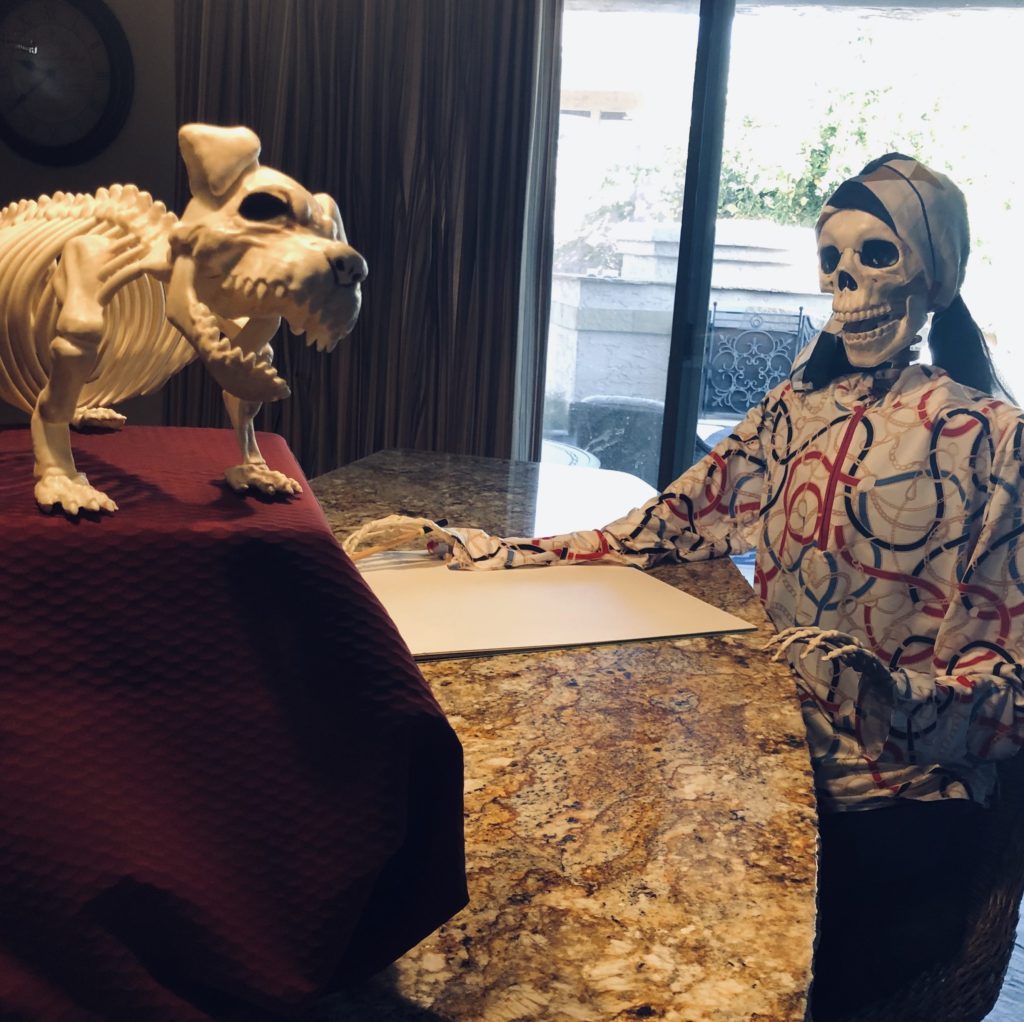 Greetings fellow painting enthusiasts!
Did you know that you learn more from still life's when you begin painting than from anything else? Seriously! You do!
Shadows, value and color mixing become a must and are pronounced when a still life is set up correctly and you need practice to get those three things just right.
I know most of you don't have lights and stands and pillars to work with so try this… Take a cardboard box, maybe 20×20, and set it on its side with the front facing you. Paint the inside if you want a color background, don't if you like the color of cardboard. I like black, brown and sienna for this task. Cut a small hole in one side towards the top or center and run an extension cord through it with a small led light attached so light reflects off all sides of the box. Next set up your favorite things inside the box. I usually use a very small rug and place pots and baskets in the arrangement. Today, I wanted to do something outside of the box and made Bongo stand on it and be my model. He's not very happy with this arrangement but I bribed him with pizza, ha!
When you are satisfied with your arrangement turn the light on and look at where your shadows are. Move things around until you're happy with the shadows and then start painting!
February 2020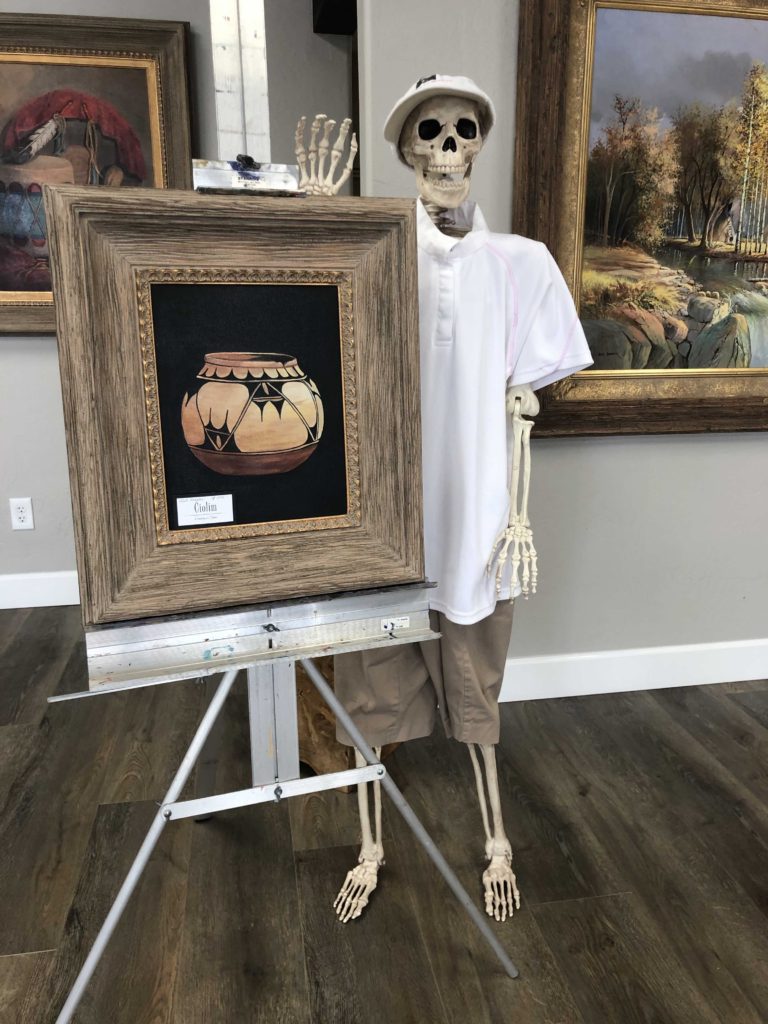 I hope everyone had a fabulous holiday season! I needed a little vacation after all the festivities, they wore me out!
But I'm back, good as ever, and I want to fill you in on a few new things going on at the gallery. We now have a small lending library thanks to donations from some of our dedicated students. There are how-to books for beginners and detailed books that provide wonderful instruction. Stop by and peruse our collection. You can even borrow one or two for a short time. We have also added a youth program for pre-teens and teens that will be taught by Marless Fellows this summer. Stay tuned for details!
So, now for the fun stuff. My advice to you this month is to draw, draw, draw, draw and then draw some more! The more you practice drawing the better you will get at perspectives and shading. Did you know drawing can also improve your creativity and your memory? Yep! Use charcoal, pencil, pens, whatever you want. Just keep drawing! I'll even pose for a portrait if it gets you motivated!
Toodles!
December 2019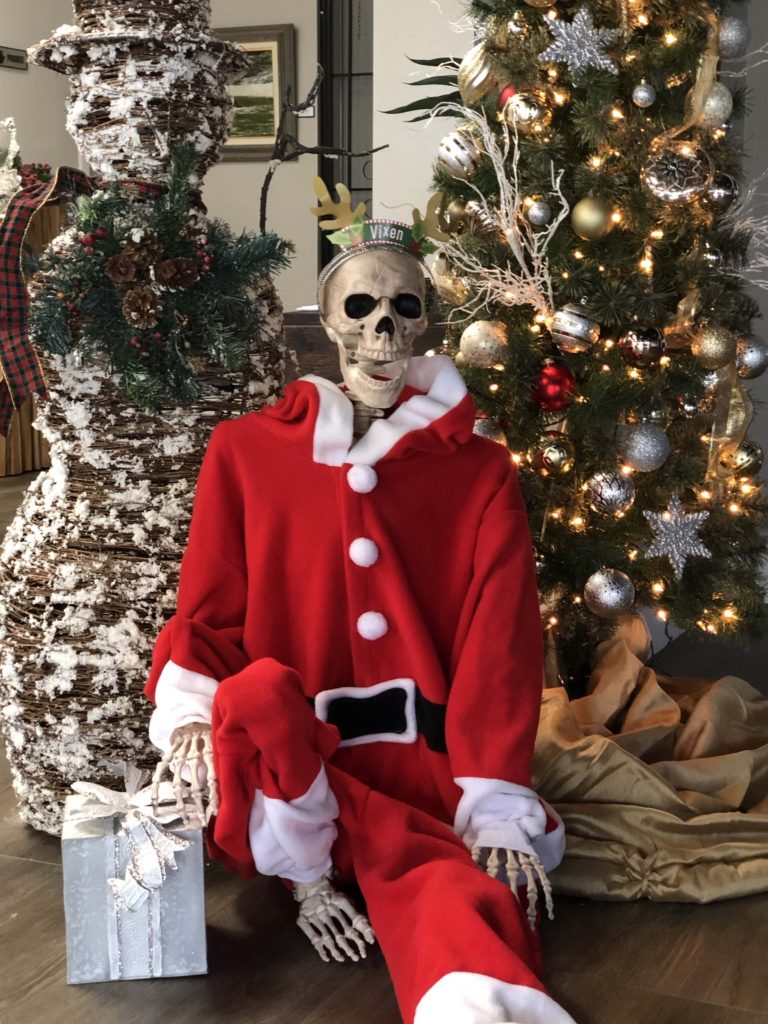 Hello fellow painting enthusiasts!
I know all you all are preoccupied with the holidays so I'm not going to give you a painting tip this month. You'd probably just wrap it up and give it to your cousin Sue anyway! Haha!
Instead I'm going to ask that you consider adopting a family from the Foothills Food Bank. They are a group of wonderful people trying to brighten the holiday season for children, families and seniors in the northern Arizona foothills community. They have 85 more families than they did last year and 125 individuals that are ready for adoption. They need more fine souls who are willing to share their good fortune with others. The last day to sign up as a donor is December 6th. Follow this link for more information https://www.foothillsfoodbank.com/adopt-a-family/.
Happy Holidays! Keep on painting!!
November 2019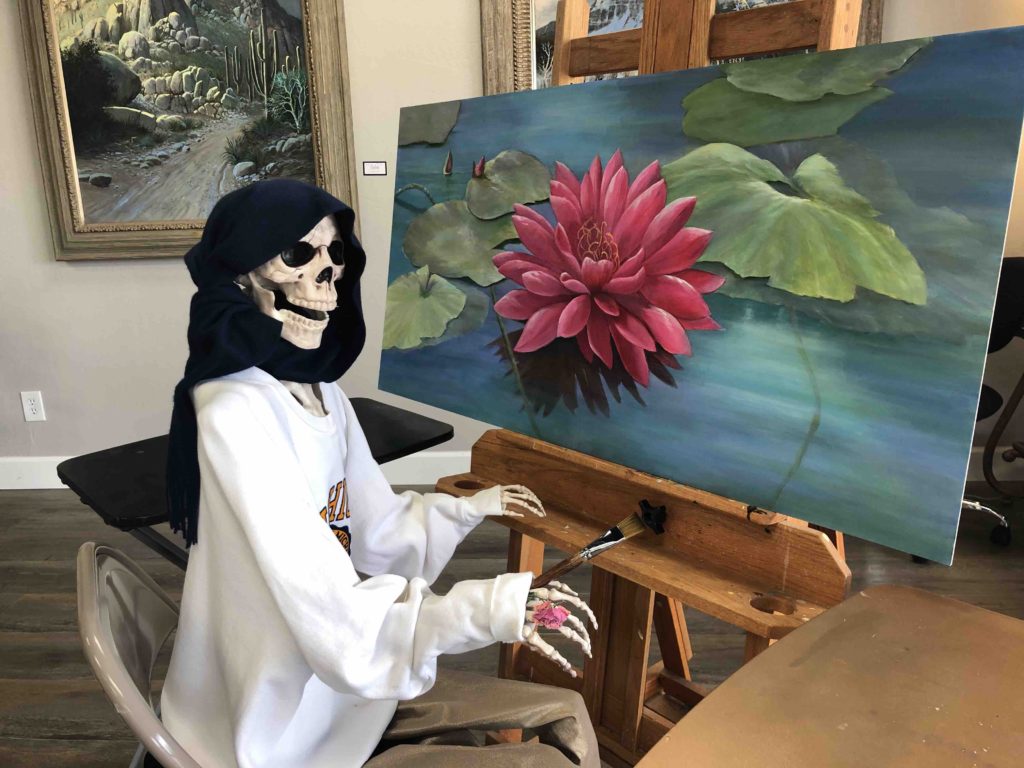 Greetings fellow artists!! I hope you had as wonderful a Halloween as I did! I caught up with cousins and siblings I haven't seen in centuries. My Aunt Apparition had some particularly good stories. She had been off haunting a pirate ship since 1823 but she accidentally sunk it this past spring when she got carried away rattling her chains and put a hole in the side. Oops…
Anyhow, this month I'm here to talk about painting with a friend or in groups and how this can give you a fresh perspective. If you find a good group or a supportive friend it will inspire you not to fall into a rut.
Open studios and conversations with other artists are great for your progress. Stand back and look at what you have done with them, do not get complacent! Keep those canvases fresh and new all the time!
Here at Ciolim we have open studio every Thursday. We have a great group of artists to bounce ideas off of and I'm always happy to look too.
Try to give that canvas at least a couple of days of the week of good concentration. It will pay off!!
October 2019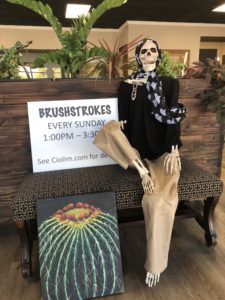 Everyone's a critic. Am I right or am I right? Sometimes though seeking out constructive criticism can be the very best thing you can do for your painting.
No surprise then that I'm here to talk about critiques this month. If you are holding off taking a painting for a critique, now is the time to bite the bullet and get it done! A proper critique should be one of the best tools you have for helping you through glitches. When you reach a point where you're not sure which direction to go a good critique will point out the good as well as the bad and give you direction as to what can be improved on.
If you encounter anything less, the person doing the critique is at fault. Don't take it personally! Just move on and find someone else you can work with. Keep it positive folks!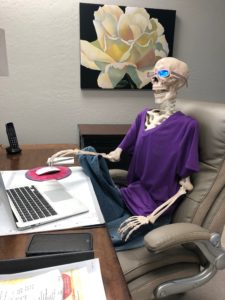 September 2019
Sup peeps? It's getting closer to my favorite time of the year! Pumpkin spice everything, black cats and some of my relatives even come out for a visit. I can't wait!
In the meantime lets talk about value. Do you know how to find value? And no, I'm not talking about shopping at Target.
Why do we have so much trouble finding three values?
It's such a simple thing when you stop and think about it. Mix the darkest value you need and then lighten it three values. Repeat once more and voila! You have a round post, pot, hand or anything else you are painting. If you keep this system in mind, everything you paint, even your clouds, will come alive.
Erma tip of the month – Find the piece that is your focal point and take it up three more value, mix them to six or eight and right away that piece will stand out from all the rest.
Happy Painting!!
August 2019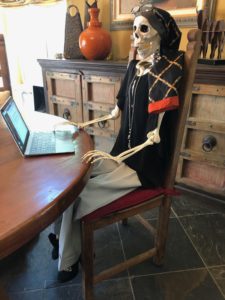 Hola fellow artists extraordinaire! I hope you're finding creative ways to stay cool this summer. I spent all day last Saturday at the mall, in the air conditioning and picking up a few new pieces for fall. You like?? I think the sales person at Neiman's might have gotten me to buy a few more things than I actually need. Oh well, it's only money and I can't take it with me!!
I'm going to talk a little about creativity and originality this month. Do you get out and photograph your own subjects or do you copy other art? Copying other art when you're a beginner is ok and great to learn from as long as you don't sell it. It's only for practice; and you should always give credit to the artist you used for a reference as a courtesy.
However, the sooner you begin to use your own reference material you'll get better faster. So go for it! Get out there, with a big bottle of water, and get photographing!!!
Adios! I'll be back in September, and as always, if you have questions, email them to victoria@ciolim.com.
July 2019
Cleaning Your Brushes.
Most of you slack on the cleaning sometimes. If I could give you an eye roll I would but my eyes are long gone and no one seems to be able to find me a donor! Anyone know where I can get some baby blues?
I digress.
I bet after this summer of sitting around in jars or laying in a box while you were traveling, your brushes have hardened up a bit. A good soaking in Turpenoid Natural for oil brushes or plain old alcohol (unless you prefer a fancy designer alcohol) for acrylic brushes will do the job. Soak them at least overnight and then give them a good scrubbing with mild soap and water. If this doesn't work and the brushes are still brittle, it might be time for new brushes. They don't have to be expensive but nothing gets the creative juices flowing like a new, fresh brush!
Adios! I'll be back in a month. If you have questions, email them to victoria@ciolim.com.