Fiddlehead Fern and Cholla Bud Quinoa Salad Recipe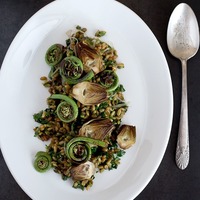 1/2 cup quinoa
1/2 pound cholla buds
1/2 pound fiddlehead ferns
1 teaspoon canola oil
1 clove garlic, minced
1 lemon, zested and juiced
1 teaspoon dijon mustard
1 teaspoon agave
2 tablespoons olive oil
1/2 teaspoon salt
1/8 teaspoon freshly ground black pepper
1 medium shallot, sliced very finely or ramps
1/2 cup chopped fresh basil
1/2 cup chopped fresh parsley
Directions
In a saucepan combine the quinoa with 1- 1/2 cups of water and a pinch of salt. Bring to the boil an them lower heat to a simmer for about 30-35 minutes, until the kernels are tender. Turn off the heat and cover, allowing the steam to finish off the cooking. After 10 minutes remove the lid to allow the grains to cool slightly.

Clean and trim the artichokes or cholla buds and ferns. In a large fry pan warm the oil over medium heat. Add the vegetables and the garlic and sauté for 3 minutes. Add 3 tablespoons of water to the pan and cover with a lid to steam the vegetables. After 2 minutes remove the lid and continue to cook until all the water has evaporated. Remove from the heat and set aside.

In a small bowl combine the lemon juice, mustard, agave, oil, salt and pepper.
When the freekeh or quinoa has cooled but is still warm, place into a large bowl and toss with the dressing. Add the herbs, lemon zest and shallots or ramps and toss together.

Top with the ferns and artichokes or cholla buds, and a spritz of fresh
Cholla Bud Pesto
Kosher salt
1/2 pound bow-tie pasta
1/2 cup Cholla Bud Pesto, recipe follows
1/2 cup cherry tomatoes, sliced in half
1/4 avocado, optional, diced
1 tablespoon chopped fresh cilantro
Cholla Bud Pesto:
1 cup cooked cholla buds
2 teaspoons roasted pine nuts
1 clove garlic, minced
1/4 cup queso fresco
1 teaspoon kosher salt
1 teaspoon freshly ground black pepper
1/2 cup olive oil
Directions
Yield: about 1 1/2 cups
In a large, heavy-bottomed pot, bring water to a boil. Season the water with about 4 tablespoons of salt. Add the pasta and cook until al dente. Drain the pasta and place in an ice bath until cool. Drain the pasta well.
In a medium bowl, mix the pasta with the Cholla Bud Pesto. Mix in the tomatoes and garnish with the avocado and cilantro.
Using a food processor, add the cooked cholla buds and pulse until the buds are chopped. Do not puree. Add the pine nuts, garlic, queso fresco, salt and pepper. Keep pulsing the processor. Add the oil last and set aside.