Class Registration
To register for any of our classes please email us at victoria@ciolim.com or call us at 480-488-7947.  Payment is expected at time of registration.
Beginner: A student with a little or no experience
Advanced Beginner: A student with some exposure looking to gain experience
Intermediate: A student confident in their materials, setting up and working on their own with guidance from the instructor
Advanced: A student confident in the medium and looking for guidance and critical critique from the instructor
CANCELLATION POLICY
7 days notice must be provided for a full refund. After that a gallery credit will be issued.
CLASSES ARE 9:30 AM – 4:00 PM
BRUSHSTROKES CLASSES ARE 1:00 PM – 3:30 PM
OPEN STUDIO IS EVERY THURSDAY FROM 1:00 – 4:00
(unless there's a scheduled class)
---
OPEN STUDIO – Every Thursday
Join us for fun every Thursday from 1:00pm to 4:00pm to paint. Watercolor, oil, acrylic or drawing. Bring your supplies and whatever you wish to work on and participate in discussions about color mixing, composition, value or whatever your challenges might be. Work through them with Ciolim instructor Victoria Reins, a member of Western Artists of America, International Guild of Realism and Women Artists of America.
$20
Any level
---
6 Day Beginning Painting Workshop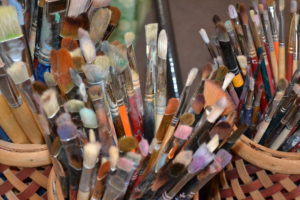 October 14th, 21st, 28th and November 4th, 11th & 18th
1:00PM – 4:00PM
$375
---
If you've always wanted to learn to paint, this class is for you. In this class we will focus on grounding you in the basics of painting from materials needed to value study, color mixing, composition and design.
In the first two classes we will provide all materials needed to get you started. We will also guide you on all the basics you need to purchase so you have your own supplies to paint with in the next two classes, as well as to yourself up at home. We want to stress that you DO NOT need to know anything about painting, you just need a desire to learn and enjoy the journey.