BASIC SUPPLY LIST:  suggested but not required
alizarin crimson
cad red light
ultramarine blue
cobalt blue
yellow ochre
cad yellow light
cad orange (can be mixed)
burnt sienna
red oxide
viridian green thalo yellow green
thalo rose (for those painting flowers)
paynes grey
white
Suggested brands: Grumbacher, Winsor Newton, Rembrandt
Brushes: various sizes, flats, rounds and filberts. Available through catalog order or AZ Art Supply, Michaels.
pallet
pallet knife
odorless thinner
paper towels
small canvas panels (no larger than 11×14)
masking tape or clip to attach photos to easel
Marless Fellows Intermediate Oil Painting Workshop Supply List
---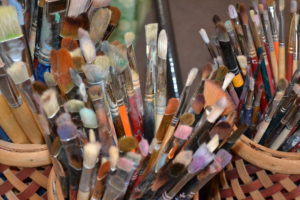 ---
Brushes
Pallet Knife
Paper Pallet
Paper Towels
Canvas two – 9×12, one 16×20
Turpentine Jar
Paints – Gamblin or Grumbacher, but if you find student grade cheaper please feel free to get it so it can be affordable. Quality isn't as good but practice it's fine. Please don't bring other colors as they do not work well with the mixing and what we will be doing.
Reds – Cadmium Red Light (warm), Quinacridone Magenta (cool)
Blues – Ultra Marine Blue (cool), Phthalo Blue (warm)
Yellows – Lemon Yellow (cool), Cad Yellow Deep (warm)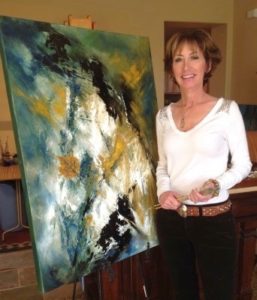 RENEE PALMER JONES SUPPLY LIST FOR CONTEMPORARY CLASS:
6-8 large photographs of well-composed images with distinct light and shadow areas and good contrasts.  Enlarge these photos to 8×10 or 9×11 to expose the detail.
bristle brushes
palette paper or glass
odorless brush cleaner (oil painters)
paper towels or blue shop towels
latex or nitrile gloves are HIGHLY recommended
large brushes up to house painting size
interesting materials that could add texture to your composition
Paint Colors.  Renee uses a limited palette of colors from which she mixes every color imaginable. The only seven colors are Utrecht brand from Dick Blick.
cadmium orange
cadmium red light
ultramarine blue
thalo green
cadmium yellow light
alizarin crimson
titanium white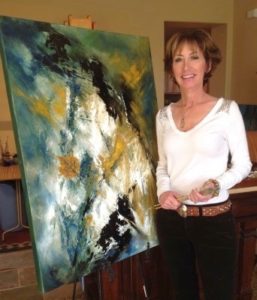 RENEE PALMER JONES SUPPLY LIST FOR PALETTE KNIFE CLASS:
For all mediums:
10-12 artfully composed, interestingly lighted photographs.  I strongly suggest not using photos taken with a  flash
3-5 canvases, no larger than 16 x 20
1-2 canvases no larger than 9 x 12
Assortment of flexible, metal palette knives no larger than 3 inches. Utrecht/Dick Black palette knives by RGM, style 109 or Jerry's Artarama brand Creative Mark S61 preferred.
Paint Colors: Renee uses a limited palette of only 6 colors from which she mixes virtually any color available in tubes.  However feel free to bring plenty of what you have. You will go through a lot of paint.

This is what Renee uses: Utrecht Brand – Cadmium Orange Pure, Cadmium Red Light, Cadmium Yellow Light, Thalo Green, Ultramarine Blue, Alizarin Crimson and Titanium White.
Stay away from any non-pure colors.  These will say HUE, OXIDE, BARIUM, etc. on the labels.

Glass or plastic palette. Disposable paper palettes tend to absorb the moisture of the paint
Nitrile or latex gloves. Mandatory for oil painters
Paper towels or blue shop towels
Color wheel
Odorless turpenoid (for oil painters)
Optional – volume additives such as Liquin Impasto for oil or Gesso products for acrylic. Linseed oil, Liquin gel, etc.
Paint Colors.  Renee uses a limited palette of colors from which she mixes every color imaginable. The only seven colors are Utrecht brand from Dick Blick.
cadmium orange
cadmium red light
ultramarine blue
thalo green
cadmium yellow light
alizarin crimson
titanium white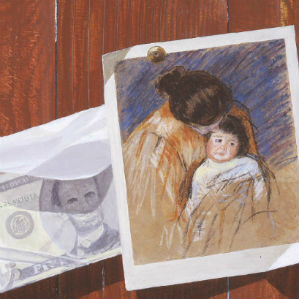 LARRY CHARLES SUPPLY LISTS:
DRAWING
Instructor will furnish the pencils and drawing paper
WATERCOLOR
Pan or tube watercolors such as Winsor Newton or Yarka St. Petersburg in 24 colors
One #1 round watercolor brush
One #5 round watercolor brush
One 1/2″ or 1″ flat watercolor brush
Tablet of 140lb cold press watercolor paper in 9×12 or 11×14 size or larger
Pencil, artist's eraser, water cup, 2 sheets of paper towel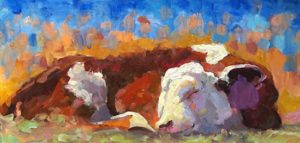 SARAH WEBBER SUPPLY LIST:
Several each of canvases or canvas panels, 6×8, 8×10, 9×12, 12×12, 11×14, 12×16, 16×20, square sizes are good for faces
Vine of willow charcoal, medium size (soft or medium), graphite pencils, anything for doing big drawings, black oil crayon is ok
Sketch pad – larger is better
Paper palette or palette
A pack of canvas pads for color studies, 11×14 is a good size
Paint:  titanium white, yellow ochre, cadmium yellow medium, cadmium yellow lemon, cadmium orange, alizrian crimson, admits red, permanent rose, ultramarine blue, viridian, black. Please do not bring cheap paint or oil painting sets – bring good paint! Sarah uses Utrecht paint – very buttery for thick brushstrokes.  She also likes Grumbacher and Gambling
Paint brushes of various sizes 4, 6, 8, 10, 12 etc. flats and filberts – stiff brushes or hog brushes are best!  No soft brushes!
A palette knife for scraping palette
Paper towels
Turp, turp jar, any painting medium such a liquin or linseed oil, walnut oil, galkyd slow dry
Small pocket mirror to look at your work in reverse
Photos of your favorite animals or pet
Susan will provide a photo library, extra paper towels and some extra canvases and panels.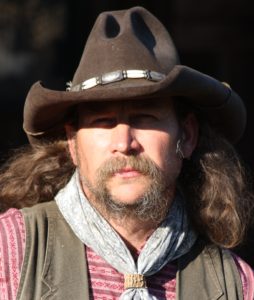 JOE NETHERWOOD SUPPLY LIST:
Winsor & Newton are preferred brands
French Ultramarine Blue
Winsor Blue
Winsor Green
Lemon Yellow Hue
Cadmium Yellow
Yellow Ochre
Cadmium Orange
Cadmium Red
Permanent Alizarin Crimson
Titanium White
Walnut Oil Medium
Brushes:  Filberts, flats of various sizes, sable liner or script brush. Palette & palette knife, paper towels, Gamsol brush cleaner and brush water, masking tape or clip for attaching photo.
Photo  & pre-sketched canvas will provided by instructor as well as Munsell color wheel.
---

---
GRETCHEN LOPEZ SUPPLY LIST
Suggested list of supplies for "Painting the Costumed Figure" with Gretchen Lopez
Suggested list of supplies- this will apply to either traditional oils, water mixable oils or acrylics……
Tube colors- Titanium White, Indian yellow (if painting in water mixable oils, this color is available in Duo Aqua from Jerry's Artarama), Cadmium yellow light, Cadmium red light, Alizarin Crimson, Ultramarine blue, burnt sienna, and burnt umber.
Add on colors- Cerulean blue, Viridian, Quinacridone red, Magenta
Brushes- I recommend synthetic hog bristle brushes for oils, both traditional and water mixable, from Rosemary and Company, however other brands are fine- #2 and 4 Filberts, #2, #4, #8 and #10 flats, #6 and #8 brights, and a two- inch background brush. 
Mediums- Gamsol (odorless thinner from Gamblin) plus their Solvent free Gel.  For those working with water mixable oils, a water mixable painting medium such as linseed oil, is recommended.
Palette knives- A two- inch metal blade for mixing paint and a small one- inch metal blade for use in painting
Container for water, and a small metal one for your oil mediums
Paper towels (I use the blue shop towels.  You can find them in the automotive department at Walmart)
Handy wipes and or baby oil gel for cleaning brushes and your hands
Canvas- I recommend the Centurion Linen Panels from Jerry's Artarama, (Universally Primed, this is especially for use with water mixable oils. Oil primed are perfect for traditional oils)
3- 11×14 panels 3- 16×20.  You can get creative though and work on 20×20 stretched canvas!!
Your favorite Drawing materials- I recommend the 314 draughting pencil, or other soft leads like 4B to 8B, Small sketch pad, and a kneaded eraser.
Don't forget your apron and camera phone or small digital snapshot……